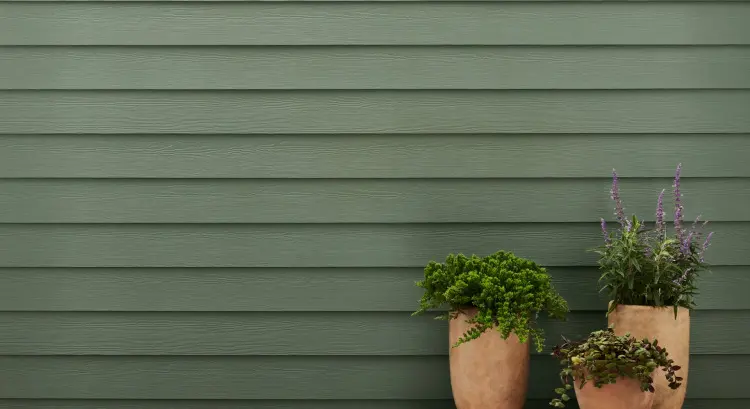 What makes James Hardie fiber cement siding's colors stay vibrant for so long? Why are they so confident in their color's inability to fade that they warranty it to be fade-resistant for up to 15 years? Hardie siding comes with several industry-leading features, including ColorPlus™ Technology—a specialized factory technique for applying a color finish to the siding. 
ColorPlus Technology optimizes adhesion to give you longer-lasting color and a lower maintenance finish you'll enjoy for years. Read on to discover what makes James Hardie siding colors last so long and how they can make your home look its best.  
How James Hardie Siding Colors Last So Long
ColorPlus Technology explained
The Hardie company finishes their amazing siding products in their controlled factory setting, so you get a unified color application that looks great years after it's applied. You get beautiful colors with staying power. 
Each coat of your siding's finish is applied indoors where the wind and debris won't affect it while it dries, so there are no mistakes such as drips or inconsistent color. 
Between each coat, the color is cured to ensure a stronger bond that withstands chipping, peeling, and cracking (the things that make siding look bad and make it susceptible to damaging water infiltration). 
The value of UV resistance
While traditional exterior paint fades over time due to its exposure to UV rays, ColorPlus Technology gives your siding extra protection from the sun's damaging rays. Its built-in UV resistance ensures its color will stay vibrant for years. 
Color cohesion
Because James Hardie offers ColorPlus Technology on their siding panels, trim, and soffits, you can enjoy a cohesive look on your home exterior. 
Perfect color combinations
It can feel overwhelming to pick the right color for your home exterior. The good news? You don't have to feel anxious about choosing a color for your home because James Hardie offers two primary categories of colors for your siding in durable ColorPlus Technology. These stunning designer-picked hues give you winning combinations that will make your home stand out. 
The Statement Collection – This group of colors features your region's most popular ColorPlus Technology hues. They are locally stocked and readily available, so you can choose your favorite and have it in no time! From Cobble Stone, Khaki Brown, Pearl Gray, and Gray Slate to Boothbay Blue and Aged Pewter, you can find a color combination you love.
The Dream Collection – Featuring over 700 ColorPlus Technology finishes, this collection of colors is made to order in Hardie's siding, trim, and soffits. Enjoy endless design possibilities and uncompromising performance with these vibrant hues created for your home. 
Ask for a sample of the siding with your favorite color from the Dream Collection, and it will be delivered. From classic lights and darks to grays and neutrals, blues and greens, earth tones and peaceful pastels, you're sure to get the perfect look for your home. 
Try the perfect color on your home 
From the convenience of your home, you can try various color options on your exterior with the Hardie's Home Color Tool. Why not experiment with colors to find the perfect look for your home?
How Durable Siding Finish Impacts Your Siding's Longevity
James Hardie siding was designed to give you high performance for its lifetime. Since its finish is what comes into direct contact with the weather 24/7, it must stay intact. Hardie siding lasts up to 50 years when well cared for and installed correctly. Because its makeup and finish are reliable, you can expect it to last. 
When you choose ColorPlus Technology for your Hardie siding's color, it helps your siding go the distance it was designed to—saving you time and money. 
Nothing Beats the Beauty of James Hardie Siding 
Are you ready to enjoy your Indianapolis area home that is easy to maintain, pops with personality, and makes you proud each time you pull up to it? James Hardie fiber cement siding gives you the high-end look and style you want with the decades-long high performance you deserve, especially when installed by our siding replacement experts team at Craftsman Exterior Remodeling. 
Learn more about James Hardie siding.