Transform Your Indianapolis Home with New Asphalt Roofing by Owens Corning
Selecting the right roofing material for your home is key to making sure it stands out and looks enviable from the curb. Of course, you also want your roof to stand up well to our area's harsh, wet, humid weather while looking great for its entire lifespan.
With Owens Corning asphalt shingles, you can have it all—an attractive, cost-effective, easily maintained roof that gives you a home you're proud of.
All About Asphalt Shingles
As the most popular type of roofing system around, asphalt roof shingles perform well for any style home. They are a convenient, easily sourced material that can give a great boost to your property's curb appeal, while also protecting it from nasty weather and leaks.
You'll Love Your Home with Owens Corning Asphalt Shingles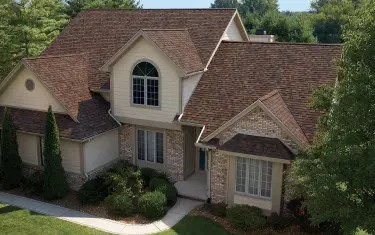 At Craftsman Exterior Remodeling, we install Owens Corning because these asphalt roof shingles perform so well.
Long-lasting — They'll perform well for 20-30 years, especially when properly installed by our well-trained Owens Corning experts.
Versatile — Asphalt shingles can easily mimic other materials, like slate and wood shakes, and they come in different styles and colors for a customized look.
Easy to care for — Low-maintenance roofing is a breeze with asphalt shingles, which are simple to clean and replace.
Weatherproof — Asphalt roofing stands up well to anything Indy's weather can throw at it, from snow and ice to rain and hot sun.
Cost-effective — One of the most affordable options available, asphalt shingles provide excellent protection for your home, making them well worth the investment.
Click to learn about the Owens Corning Total Protection Roofing System+
Stellar Roofing from Owens Corning
Why do so many homeowners love Owens Corning? Well, you'll find that there is good reason Owens Corning is the #1 roofing manufacturer in the world.
Top-Notch Performance
Designed with the homeowner's delight in mind, Owens Corning asphalt roof shingles are made to outshine other asphalt roofing on the market. They are long-lasting and durable.
Gorgeous Aesthetics
There's no need to fret over style, because Owens Corning asphalt roof shingles are available in a wide range of looks and colors so you can get a perfect match to your home's architecture, landscaping, siding and more. Talk about outstanding curb appeal!
Click to See Style Options from Owens Corning+
Superb Commitment to Craftsmanship
Because Owens Corning takes such pride in their performance, they offer some of the best roof warranties around—including extended, best in class, limited lifetime warranties that give you long-term peace of mind.
"Outstanding company! The most professional and educated construction company I have done business with. The attention to detail that this company has is incredible. True craftsmanship! Communication through my entire project was top notch. Highly recommend! I will be using Craftsman Exteriors again in the future!"
-Arthur K.
Why Choose Craftsman Exterior Remodeling?
We're Owens Corning Certified!
As an Owens Corning Preferred Contractor, our company is expertly trained in exactly how to install your asphalt roof so you get the full benefits of it. This also keeps the manufacturer's warranty intact in the unlikely event your roofing materials need replacement sooner than expected.
We Know Roofing Inside and Out
Not only that—our owner, Clayton, is a pro in the roofing industry, with 10+ years working directly for Owens Corning, and vetting other roofers for proper installation techniques. Our entire team knows these products and their installation process thoroughly, giving you craftsmanship of the highest quality.
Respectful Care for Your Home
When you choose us for your roof installation, you can rest assured that we respect your property. Our catch-all, protective netting system surrounds your home during the installation process to keep your plants and landscaping safe and prevent nails and debris from lodging in your lawn. This also makes it easy and quick for us to do our daily cleanup.
Revitalize Your Roof with Asphalt Shingles
Why let your roof go uncared for any longer? With Owens Corning asphalt roofing installed by our team of perfectionists, you'll have a transformed home you're proud of in no time.