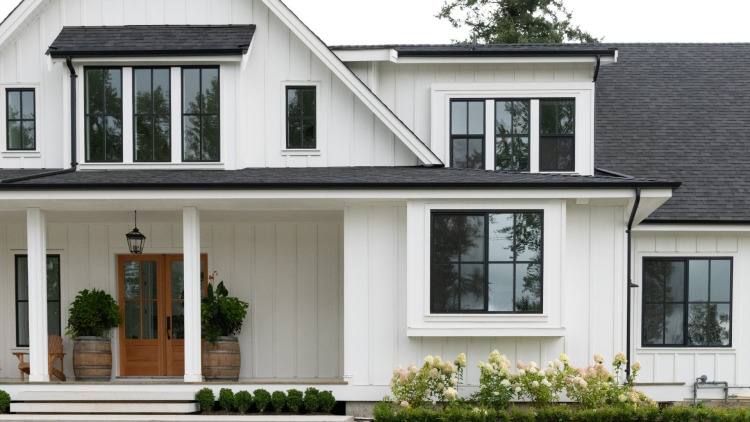 As you plan your window replacement, creating a cohesive look for your home is key—but does that mean you need to select one window style and use it throughout your house? Are there elements like grids that can add a common theme to your window choices and allow for different window styles that work well together? 
When it comes to window selection, manufacturers create the opportunity for you to choose the best style for each room by offering consistent designs, colors, and materials. You can have continuity while selecting the most functional, beautiful style for each space. 
Define Your Priorities and Let Them Guide Your Window Design Choices 
Looking at your house as a whole as well as each room in it, decide your top goals. What is it you want your new windows to achieve? Some possibilities include:
Improve your house's ventilation
Popular double-hung windows help air to circulate because they open from the top down and from the bottom up, allowing cool breezes to enter from the window's bottom and warm air to exit out its top. Awning windows deliver exceptional airflow to your kitchen or bathroom, and they can be placed higher on walls than most operable windows, making them a practical choice. Casement windows open outward with a crank and can be opened all the way, catching breezes more easily.
Boost your home's energy efficiency
Choosing ENERGY STAR rated windows throughout your house will lower your utility bills for years, saving you several hundred dollars annually. If this is one of your top priorities, make sure you have all your windows replaced, and opt for energy-efficient glass in all of them. Don't leave one window out, or your heat and air conditioning will escape through the "weak link." Also, double or triple-pane windows create better insulation to ensure lower energy use, and your wallet will thank you. 
Fixed picture windows give you optimal energy efficiency with their airtight seal. Casement windows only have one sash and therefore close with a tighter seal than other window types, giving you excellent energy efficiency.
Add more natural light to your space
Sliding windows offer greater "glass real estate" and therefore allow more natural light to come streaming into your home. They also increase your view of the outdoors! Transom windows are located over the top of other windows, or over doors. They come in a variety of different shapes and styles. They are inoperable windows (meaning, they don't open up to allow air to flow), and their primary purpose is to add natural light to your interior. Transoms also add an attractive design element to your space. 
Deliver great function yet remain out of the way
Windows that glide within their frame won't intrude on your outdoor walkway, patio, or porch areas. These include double- and single-hung windows, as well as sliding windows and doors. Their sleek design makes them popular options.
Offer simple upkeep
If your current windows are single-hung, and you have a second floor in your house, you'll be thrilled with today's upgrades: double-hung windows with a convenient tilt-in feature. This means you can clean your windows from inside your home. With this tilt-in feature, you can bypass the risk of climbing a ladder to clean second-floor windows. (You'll also bypass a trip to the emergency room that so many experience from ladder falls.)
Add a design element
When choosing your new window styles, you don't have to stick with rectangular windows that are flush with your wall. You can play around with different shapes to add visual interest. Bay and bow windows consist of multiple windows in a sequence that protrude from your home. Bay windows begin with a large picture window, and a smaller window is added to each side. Bow windows use the same style of window in each section, and the whole structure is rounded. They create a cozy breakfast nook adjacent to your kitchen, or a place to read in your bedroom.
Enhance your curb appeal
A cohesive window design can maximize your property's value and deliver eye-catching curb appeal you're sure to love. They will make your house look stately, well-kept, and welcoming to family, friends, and future homebuyers. 
Complement Your Home's Architectural Style with the Perfect Windows
Modern houses lend themselves to simple lines and sleek designs
Casement windows are ideal for modern spaces. Their clean lines and functional design make them a perfect fit for contemporary homes.
Traditional houses are complemented perfectly with classic choices
Double-hung windows have worked in traditional-style properties for decades, and they will likely never go out of style. They are a practical choice for Colonial, Victorian, and Cape Cod style homes.
Mix and Match Windows for Your Indianapolis Property 
If you love the look of double-hung windows, but crave the sunlight and breezes casement windows offer, consider combining the two by placing double-hung windows in the front of your house (for curb appeal) and casements in the back for their fabulous breezes and straightforward function.
Stylish Window Selections for Your Home 
The great thing about choosing new window styles for your house is that you don't have to do it alone. Experienced help works together with you to create a window design that will give you total satisfaction for years. At Craftsman Exteriors, we'll help you select the best windows for your house with complementary window styles to create continuity in its design. 
We'd love to sit down with you to listen to your dreams so we can help you get the results you desire. You'll be amazed at how our window services can transform your home.