Craftsman Exterior Remodeling: Roofing, Siding, Windows, and More
When your Avon home's exterior needs renovating, get a fresh look with Craftsman Exterior Remodeling! We proudly install low maintenance siding, roofing, windows, and other exterior touches to make your home stand out!
Keep Your Home Safe and Dry with a Beautifully Installed Roof
Dilapidated roofing is more than just an eyesore; it can let water seep inside your home, leading to leaks and higher repair bills. A roof replacement may be necessary if your Avon, IN roof shows any of the following symptoms of wear and tear:
Roofing shingles are missing or loose
You see shingle granules in your gutters or lawn
Shingles are cracked or dented
Cracks or damp spots on your ceiling
Having your roof replaced may do wonders for the look of your house and the security you feel within. In addition, the ROI on a new roof is very high. Among the many high-quality roofing options we install at Craftsman Exterior Remodeling are:
Professional Siding Installation
As a James Hardie Preferred Contractor, we are trained and certified by James Hardie to install their beautiful and long-lasting siding. James Hardie fiber cement siding has a reputation for looking great and holding up well for decades. Some of its advantages are:
Beautiful presentation
Toughness and resilience
Little to no maintenance
Pest-resistance
Non-combustible
Eco-friendly
Excellent ROI
We also offer Vinyl Siding for an efficient, cost-effective siding solution.
"We will definitely be returning in the near future! My husband and I are happy with the quality of work and how efficient they are. Our neighbors are still talking about how nice our home looks. Thank you so much for all of your hard work! We look forward to working with you again."
-Melia D.
Enjoy More Natural Light With High-Quality Replacement Windows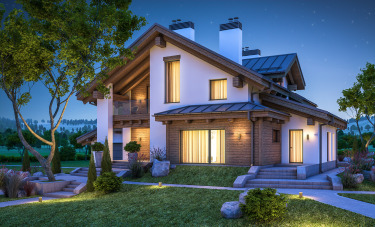 The aesthetic of your home can be severely hampered by the presence of old windows. Your Avon house needs windows that are beautiful, functional, and weatherproof. There are countless ways in which new replacement windows can simplify your life, such as:
They are a breeze to open and wipe down
Provide enhanced visibility and illumination
Increased effectiveness in conserving energy
Safety for your loved ones
Peace and quiet within your home
Replacement windows from Pella, Marvin, and Wincore are just a few of the brands we install for Avon residents here at Craftsman Exterior Remodeling.
Indianapolis Home Exterior Remodeling Projects
See how Craftsman Exterior Remodeling was able to transform these Indianapolis homes with siding, roofing, windows, and more!
Avon's Trusted Exterior Remodeling Contractor
Located on the western edge of the metro area, Avon, Indiana is only ten minutes from the Indianapolis Motor Speedway and twenty minutes from the heart of downtown Indianapolis. You, as a resident of Avon, are aware that our wonderful community offers it all, including excellent educational opportunities, a thriving arts and cultural scene, and a wealth of opportunities to enjoy the great outdoors. You shouldn't have to sacrifice your free time to worry about the exterior of your property when you could be having fun.
Here at Craftsman Exterior Remodeling, we listen carefully to our clients to provide just what they need. It's your house, so naturally, we hope you're pleased with the the quality of Craftsman's exterior remodeling. Get in touch with us for a no-cost evaluation of the exterior of your house.