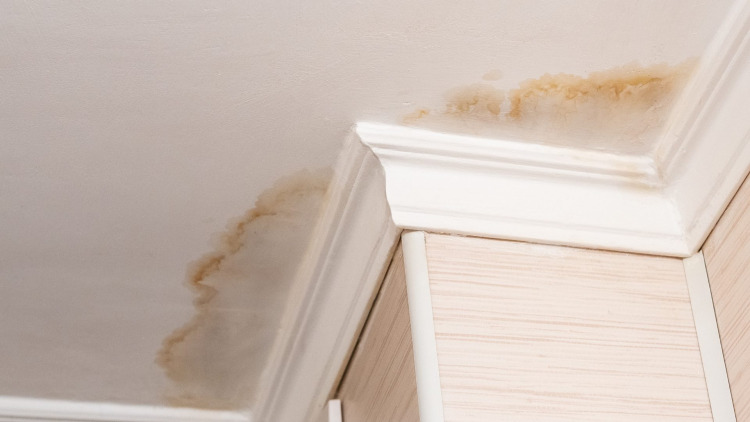 Old, worn-out, or damaged roofing puts your Indianapolis home at risk of costly leaks. The good news is that you can learn to spot common signs of roofing problems before water ever drips from your ceiling.
Signs of a compromised roofing system that may lead to water damage include missing or loose roof shingles, worn-away granules, bare spots, cracks, sagging, and leaks. These signals show that you likely have water damage now or you will in the near future.
Prevent the costly roofing problems others experience by learning common signs that you have a roof leak.
How to Know if Your Roof Is Compromised
1. Water stains on your ceilings
You know you have a roof leak when water stains on your ceilings and walls are visible. Water doesn't have to be dripping from your ceiling to verify that you've got a leaky roof. The discolored spots on your ceilings are evidence that you have a problem. It may be a slow leak that goes down your walls over time, but it's still a leak. Sometimes the leak causes your home's paint to peel, crack, or bubble.
Solution: Find a trusted roofer who can give you an honest estimate to take care of the needed repairs or roof replacement.
2. Clogged gutters and downspouts
If your gutters are stopped up, they may either drain slowly or not at all. How does that impact your roof? Water needs somewhere to go, so it overflows onto your roof and usually finds a crack to seep through.
Solution: Prevent water intrusion by keeping your gutters clean. You can do this by either adding gutter guards to them (so you can avoid risky ladder climbing) or by taking the needed safety precautions and cleaning your gutters yourself each spring and fall. If you already have water damage, contact a roofing contractor to evaluate the situation and recommend the appropriate solution.
3. Missing shingles
If you grab a pair of binoculars and step away from your home to get a good look at your roof, you can do a shingle inspection that gives you plenty of information about your roof's condition. If you notice missing shingles (or warped, blistering, or buckling shingles), you may have water damage to your roof and your house. Missing shingles are a sign that your home's protective layer has been compromised and you're at risk of water damage.
Solution: Contact a reputable roofing contractor and have your roof inspected.
4. Light in your attic
If you go into your attic and spot sunshine peering through it, water has the same access when it rains. You probably have a leaky roof that has already damaged your attic's insulation and wood beams.
Solution: If you see sunshine in your attic, look at your roof beams and see if you notice any mold growth indicating your home has been experiencing water damage. Contact a reliable roofing team (like us!) for an inspection.
5. Shingle granules in your gutters and downspouts
After a storm, if you see a pile of asphalt roofing granules that look like they came straight out of your downspout, then your shingles are wearing out, and water damage could result. If you inspect your roof from the ground and see bald spots, that's where your granules have come off your shingles.
Solution: Check your roofing shingles' manufacturer's warranty to see how long they are covered, and contact a roofer for an inspection.
6. Unhealthy mold growth
When water makes its way through your roofing system and into your home, unhealthy mold and mildew can flourish within 1-2 days. Yikes! Mold can multiply, cause health problems, and create a terrible smell.
Solution: Have your roof inspected and consider getting a new roof.
Protect Your Indy Home with a New Roof
A new roof helps defend your home from hail, water intrusion, mold growth, and more.
You don't have to tolerate roofing problems any longer. Our experienced team at Craftsman Exterior Remodeling is ready to give you the perfect blend of pro guidance, precision installation, and stellar customer service to ensure you're thrilled with your Indianapolis home's new roof for years to come.
We install customizable asphalt shingles, elegant standing seam metal roofing, luxurious-looking genuine slate, and classic wood shakes with an authentic appeal. Learn more about our roofing services.